Executive Summary
Fixed Income
During the week, T-bills were undersubscribed, with the subscription rate coming in at 62.6%, down from 78.4% the previous week. The undersubscription is partly attributable to tightened liquidity in the money market during the week. The yield on the 91-day and 182-day papers remained unchanged at 6.4% and 7.0%, respectively, while the yield on the 364-day paper rose to 9.5%, from 9.4% recorded last week. According to the Stanbic Bank Kenya PMI index, business conditions in the country continued to improve in the month of August, though, at a slower pace compared to July. The PMI index for the month came it at 52.9 compared to 54.1 recorded in July. Readings above 50.0 indicate an improvement in business conditions, while readings below indicate deterioration;
Equities
During the week, the equities market was on a downward trend with NASI, NSE 20 and NSE 25 declining by 3.4%, 1.9% and 3.2%, respectively, taking their YTD performance to gains/(declines) of 1.5%, (14.6%) and (4.0%), for NASI, NSE 20 and NSE 25, respectively. KCB Group highlighted that 87.7% of the ordinary shareholders of National Bank of Kenya (NBK) had accepted the acquisition offer, with the remaining shares subject to compulsory acquisition;
Private Equity
The Kenya Mortgage Refinance Company (KMRC), an initiative by the National Treasury and the World Bank whose aim is to provide secure long-term funding to mortgage lenders, has raised Kshs 1.2 bn in equity capital from eight Kenyan commercial banks led by KCB Group, which has committed Kshs 600.0 mn in equity capital for a 25.3% stake. The other commercial banks include Co-operative bank, NIC Group, HF Group, Barclays Bank of Kenya, Diamond Trust Bank Kenya, Stanbic Bank and Credit Bank;
Real Estate
During the week, Knight Frank released Kenya's H1'2019 Market Update, highlighting a slow-down in the real estate sector, evidenced by the reduced uptake of office space. In the retail sector, Quick Mart Limited and Tumaini Self Service Limited announced the commencement of a merger and business integration of the two companies. In the hospitality sector, Eighteen Seventy Lower Kabete Limited, a real estate developer, announced plans to develop a 27-floor hotel and residence complex in Westlands, Nairobi;
Focus of the Week
There is a strong link between economic growth and the depth, size and sophistication of the capital markets. This is largely because the capital markets act as intermediaries of capital between the surplus unit of the economy (those who have surplus funds) and the deficit unit of the economy (those without capital). The importance of the relay in capital is even more pronounced given the huge infrastructural and development gap between the developed and developing countries. We thus examine the role that capital markets have in financing infrastructure development, large enterprises, and Small and Medium Enterprises (SMEs), thereby catalysing economic growth. We also examine the depth of the local capital market, the challenges the market is currently facing, and recommend ways to improve the development of local capital markets;
Following the licensing of our regulated affiliate, Cytonn Asset Managers Limited, we are transitioning to an agency model and are looking for agents for our regional markets – Kisumu, Nakuru, Mt. Kenya, and Mombasa. If you have an existing financial services sales business and interested in being an agent in any of these regions, please email us at ifa@cytonn.com;
Cytonn Money Market Fund closed the week at an average yield of 11.0% p.a. To subscribe, just dial *809#;
Money Markets, T-Bills & T-Bonds Primary Auction:
T-bills remained undersubscribed, with the subscription rate coming in at 62.6%, down from 78.4% the previous week. The undersubscription is partly attributable to tightened liquidity in the money market during the week as a result of tax payments with Pay as You Earn (PAYE) due on 9th September 2019. The yield on the 91-day and 182-day papers remained unchanged at 6.4% and 7.0%, respectively, while the yield on the 364-day paper rose to 9.5%, from 9.4% recorded last week. The acceptance rate rose to 99.9%, from 95.1% recorded the previous week, with the government accepting Kshs 15.01 bn out of the Kshs 15.02 bn of bids received.
In the money markets, 3-month bank placements ended the week at 8.6% (based on what we have been offered by various banks), the 91-day T-bill came in at 6.4%, while the average of Top 5 Money Market Funds came in at 10.1% compared to 10.0% last week, with the Cytonn Money Market Fund closing the week at 11.0%, unchanged from last week.
Liquidity:
During the week, the average interbank rate increased to 5.5%, from 4.6% recorded the previous week, pointing to tightened liquidity conditions in the money market attributable to tax payments with Pay as You Earn (PAYE) due on 9th September 2019. This saw commercial banks' excess reserves decline to come in at Kshs 6.6 bn in relation to the 5.25% cash reserves requirement (CRR). The average volumes traded in the interbank market declined by 37.1% to Kshs 7.4 bn, from Kshs 11.8 bn the previous week.
Kenya Eurobonds:
The yield on the 10-year Eurobond decreased by 0.2% points to 5.1%, from 5.3% the previous week. The continued decline in yields has been attributed to increased demand for emerging market fixed-income securities in the wake of the pause by the US Fed on its three-year cycle of tightening its monetary policy, which had made returns from fixed income securities more attractive as highlighted in our H1'2019 SSA Eurobond Performance Note.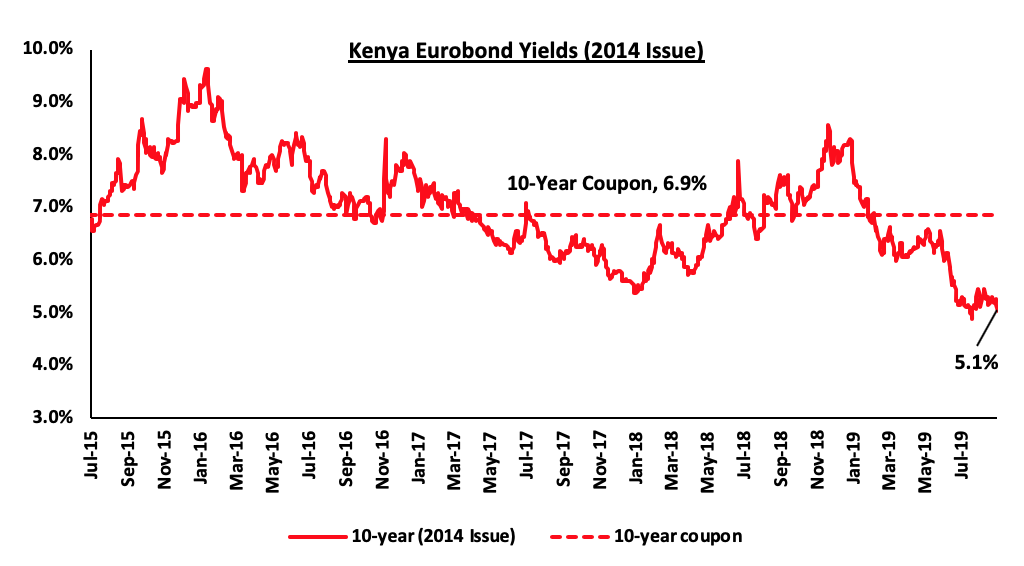 During the week, the yield on the 2018, 10-year and 30-year Eurobond both declined by 0.4% points to 6.3% and 7.7%, respectively, from 6.7% and 8.1% recorded the previous week.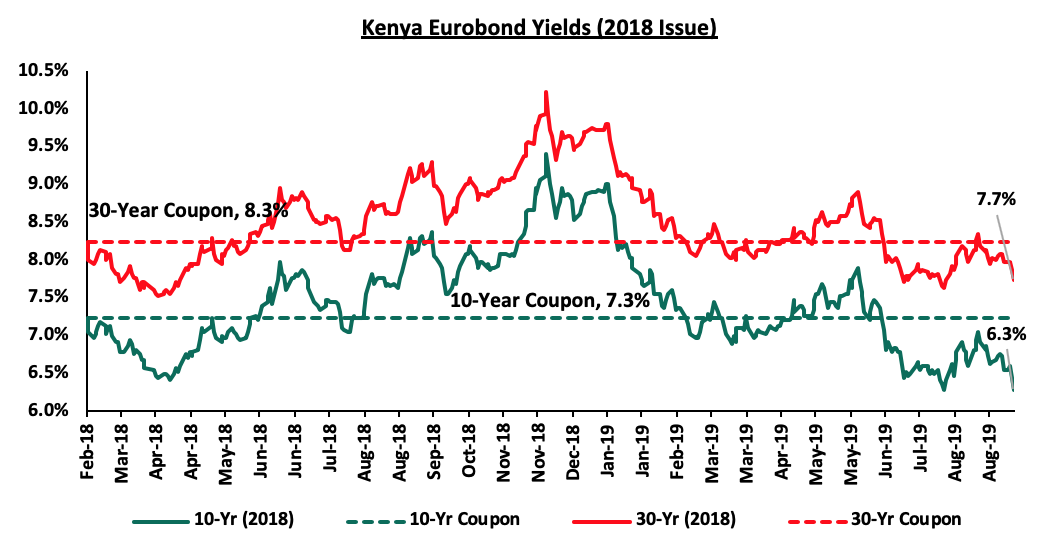 During the week, the yields on the 7-year Eurobond declined by 0.2% points to come in at 6.0%, from 6.2% the previous week, while the 12-year Eurobond fell by 0.4% points to 7.0%, from 7.4% the previous week.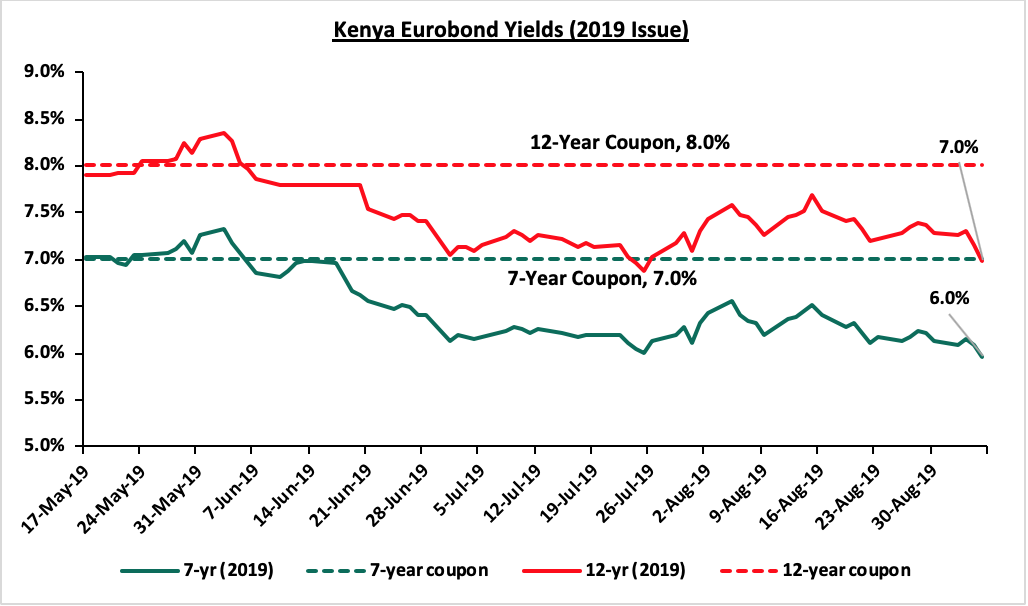 Kenya Shilling:
During the week, the Kenya Shilling depreciated by 0.3% against the US Dollar to close at Kshs 103.9, from Kshs 103.6 the previous week, driven by surging dollar demand from the energy and manufacturing sector. On an YTD basis, the shilling has depreciated by 2.0% against the dollar, in comparison to the 1.3% appreciation in 2018. In our view, the shilling should remain relatively stable against the dollar in the short term, supported by:
The narrowing of the current account deficit, with preliminary data indicating that the current account deficit narrowed to 4.2% of GDP in the 12-months to July 2019, from 5.0% recorded in December 2018. The decline has been attributed to the resilient performance of exports particularly horticulture and coffee, strong diaspora remittances, and higher receipts from tourism and transport services. Growth of imports also slowed mainly due to lower imports of food,
Improving diaspora remittances, which have increased cumulatively by 11.1% in the 12-months to July 2019 to USD 2.8 bn, from USD 2.5 bn recorded in a similar period of review in 2018. The rise is due to:

Increased uptake of financial products by the diaspora due to financial services firms, particularly banks, targeting the diaspora, and,
New partnerships between international money remittance providers and local commercial banks making the process more convenient,

CBK's supportive activities in the money market, such as repurchase agreements and selling of dollars, and,
High levels of forex reserves, currently at USD 9.2 bn (equivalent to 5.8-months of import cover), above the statutory requirement of maintaining at least 4.0-months of import cover, and the EAC region's convergence criteria of 4.5-months of import cover.
Weekly Highlights
According to the Stanbic Bank Kenya PMI index, business conditions in the country continued to improve in the month of August, though at a slower pace compared to July. The PMI index for the month came it at 52.9, compared to 54.1 recorded in July, making it the fourth monthly improvement in a row. Readings above 50.0 indicate an improvement in business conditions while readings below 50.0 show a deterioration.
Businesses saw new orders rise at a steep pace mainly supported by increasing client numbers and larger purchases that drove up demand. It is key to note that there was a sharp slowdown in output growth. The slower pace is attributable to continuing cash-flow issues in businesses in the country owing to slow government payments, which make it hard for companies to keep up with new orders resulting in increased backlogs for the fourth month running. Employment saw modest growth with some businesses increasing their labour because of the increased demand, while others reduced staff in an effort to limit staff cost pressures. Based on the pace of new order growth, selling charges rose at a softer pace, although, it was the second highest increase in prices in the year to date. Staff costs increased at the slowest rate in 7-months while cost pressures rose driven by higher taxes on some commodities and a stronger US Dollar against the Kenya Shilling. Going forward, we are positive that the improving trend in business conditions will continue, supported by the current stable macro-economic conditions.
During the week, Moody's, the credit rating agency, gave East African Development Bank a Baa3 long-term issuer rating and a 'stable' outlook. Despite having this rating, the regional bank has high fluctuating Non-Performing Loans (NPLs), resulting from the weak asset quality and deterioration in asset performance in recent years, and a developing risk management framework, which weigh down on its rating. The main shareholders of the institution include; Kenya, Uganda, Tanzania and Rwanda. In terms of credit rating, they scored; B2, B2, B1, and B2, respectively.
Rates in the fixed income market have remained relatively stable as the government rejects expensive bids. A budget deficit is likely to result from depressed revenue collection with the revenue target for FY'2019/2020 at Kshs 2.1 tn, creating uncertainty in the interest rate environment as additional borrowing from the domestic market goes to plug the deficit. Despite this, we do not expect upward pressure on interest rates due to increased demand for government securities, driven by improved liquidity in the market owing to the relatively high debt maturities. Our view is that investors should be biased towards medium-term fixed income instruments to reduce duration risk associated with long-term debt, coupled with the relatively flat yield curve on the long-end due to saturation of long-term bonds.
Market Performance:
During the week, the equities market was on a downward trend with NASI, NSE 20 and NSE 25 declining by 3.4%, 1.9% and 3.2%, respectively, taking their YTD performance to gains/(declines) of 1.5%, (14.6%) and (4.0%), for NASI, NSE 20 and NSE 25, respectively. The performance in NASI was driven by declines in large cap stocks such as Equity Group, KCB Group, Safaricom and BAT, which declined by 6.9%, 4.9%, 4.8%, and 3.9%, respectively. The declines over the week were largely due to several counters such as KCB Group and Safaricom, which had their book closures and thus begun trading ex-dividend.
Equities turnover rose by 124.3% during the week to USD 30.1 mn, from USD 13.4 mn the previous week, taking the YTD turnover to USD 988.8 mn. Foreign investors turned net sellers for the week, with a net selling position of USD 0.4 mn, from a net buying position of USD 3.3 mn in the previous week.
The market is currently trading at a price to earnings ratio (P/E) of 11.0x, 17.3% below the historical average of 13.3x, and a dividend yield of 5.5%, above the historical average of 3.9%. With the market trading at valuations below the historical average, we believe there is value in the market. The current P/E valuation of 11.0x is 13.4% above the most recent trough valuation of 9.7x experienced in the first week of February 2017, and 32.5% above the previous trough valuation of 8.3x experienced in December 2011. The charts below indicate the historical P/E and dividend yields of the market.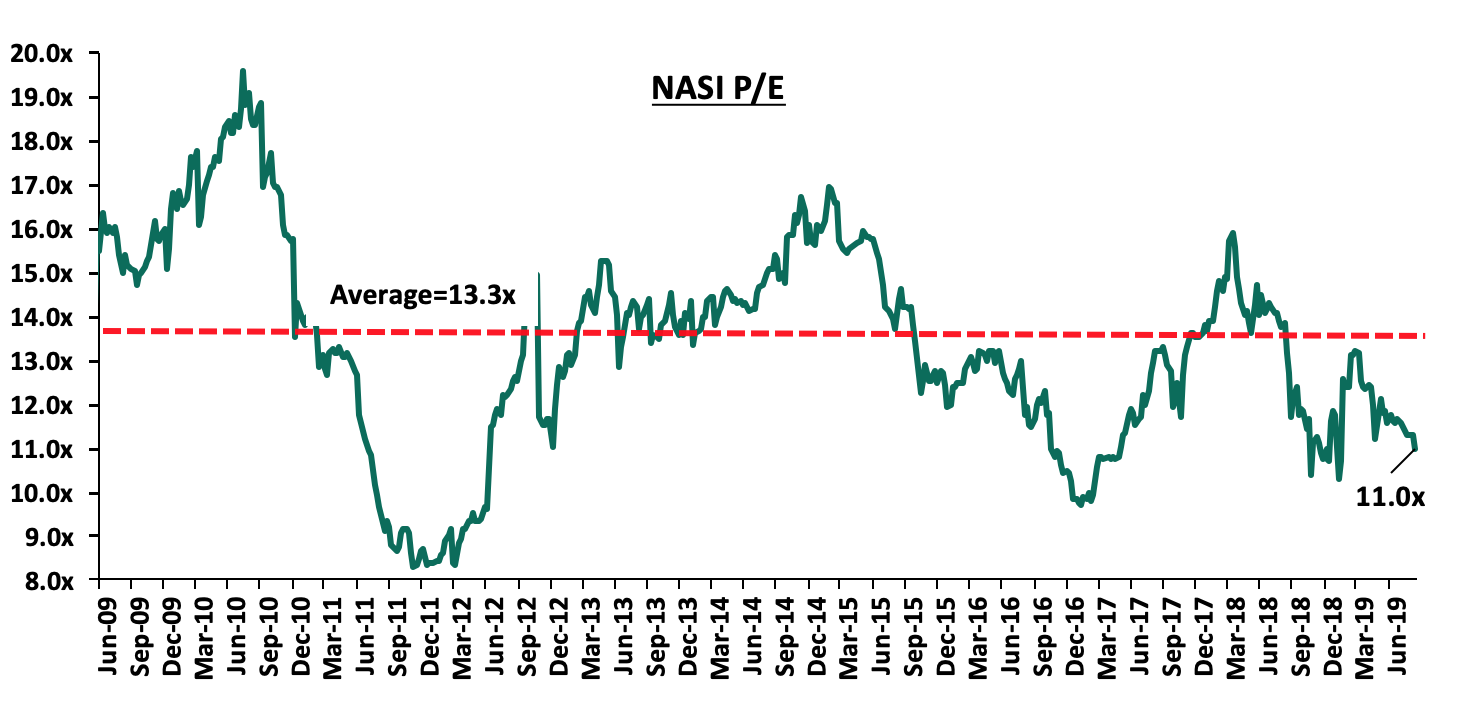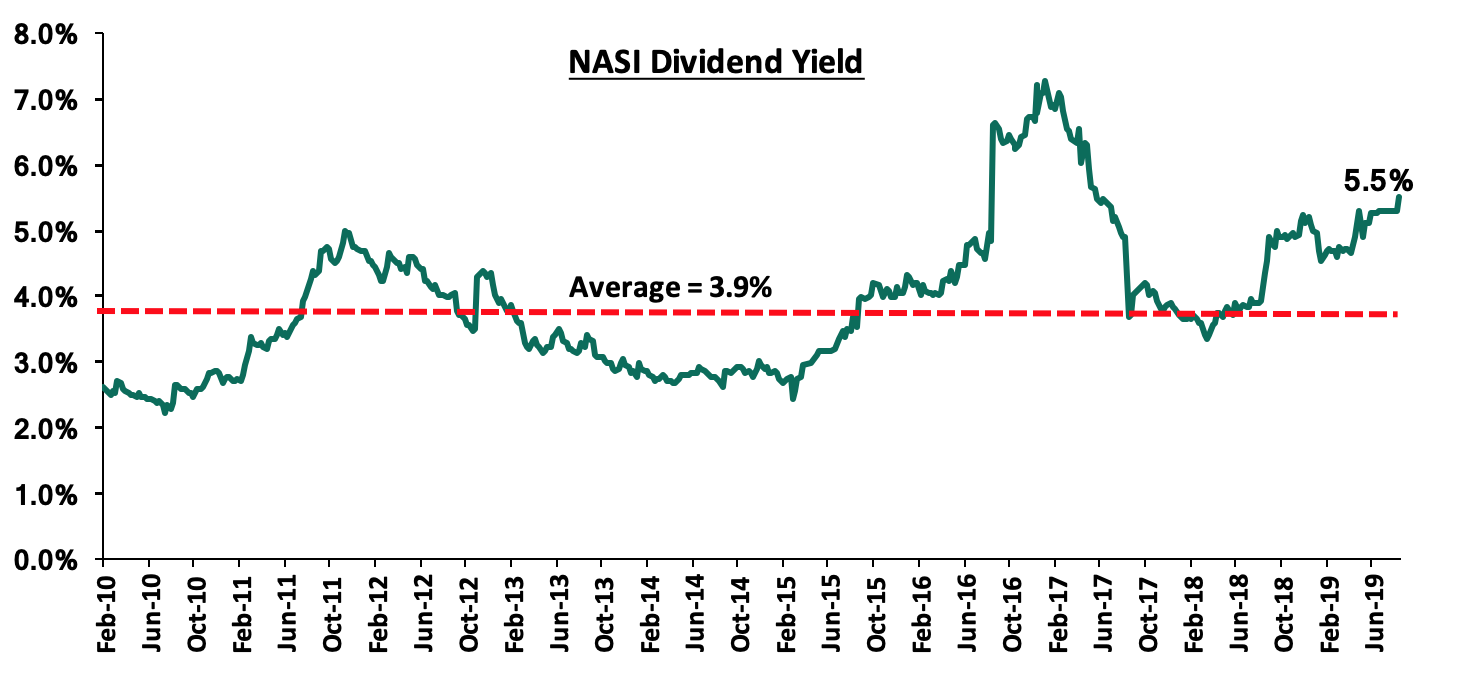 Weekly Highlights
During the week, KCB Group highlighted that after the closure of the offer period of the acquisition of National Bank of Kenya (NBK), 297.1 mn out of the 338.8 mn ordinary shares, representing 87.7% of the ordinary shareholders of NBK, have accepted the offer. The acceptance rate exceeded the acceptance threshold of 75.0%, and has thus been deemed as successful. Therefore, the offer will proceed to completion, which will see the conversion of 1.135 bn non-cumulative preference shares in NBK into ordinary shares in a 1:1 conversion. For the remaining 41.7 mn ordinary shares yet to accept the offer, KCB Group intends to compulsorily acquire the shares in accordance with the Capital Markets (Take-overs and Mergers) Regulation 2002, and Part XXIV Division 4 of the Companies Act. The Central Bank of Kenya (CBK) issued its approval of the transaction during the week, highlighting that the transaction will leverage on the banks' respective well-established domestic and regional corporate, public sector and retail franchises. The approval by both the CBK and the Competition Authority of Kenya (CAK), and the successful acceptance of the offer has seen KCB Group take control of NBK's management, as the bank appointed Paul Russo who was KCB Group's Director of Regional Business as the designate Managing Director of NBK. His appointment is pending approval from CBK following a fit and proper test. If approved, he will be tasked with leading the transition team, as NBK remains as a separate subsidiary of KCB Group, with full transition expected to be concluded in 24-months as they streamline human resources, systems, processes and procedures so as to improve productivity and unlock the intended synergies post-acquisition. We note that:
The transaction has progressed within the stipulated timelines, with the listing of the additional 0.15 bn KCB shares expected to be done on 30th September 2019;
The acquisition once completed will increase the bank's deposit franchise, as well as its asset base; and,
The performance of KCB Group will likely be weighed down in the short term on recapitalization of NBK, which had a core capital to risk-weighted assets of 1.5%, 9.0% points below the statutory requirement of 10.5%, and a total capital to risk weighted assets ratio 2.9%, 11.6% points below the statutory requirement of 14.5%, and the cleanup of NBK's large Non-Performing Loan (NPL) book, which stood at Kshs 32.4 bn, which translates to a gross NPL ratio of 48.1%.
During the week, HF Group launched the first WhatsApp banking solution in Kenya, which will enable clients to conduct virtual account opening, funds transfers, obtain loans, pay utility bills, and conduct goods purchases. The bank plans to leverage on the platform's wide user base, so as to increase the number of customers serviced by the bank and consequently the associated fee income. We note that the bank has been driving a digital expansion strategy, as it aims to morph into a fully-fledged commercial bank from a mortgage financier. In July 2018, HF Group launched a mobile app dubbed "HF Whizz", which offers similar services such as account opening, payment of utility bills and funds transfer. The bank continues to target the youthful population with its digital products as it looks to expand its funding base as well as reduce its costs of funding, with the bank having the highest cost of funds in the listed banking sector of 7.4% as at H1'2019, higher than the listed banks average of 4.0%. Furthermore, an increased usage of the digital channels and automation of internal processes would reduce staff headcount demands, and thereby increase the bank's operation efficiency, with the bank having a cost to income ratio of 104.9%, compared to the listed banking average of 63.6%. This should presumably be aided by growing its Non-Funded Income (NFI) segment of the total operating income. The benefits highlighted are contingent on increased awareness, penetration and usage of the products and services, with the bank likely to find it hard to penetrate the market, with the larger players having similar product and service offerings, brand loyalty as well as ability to replicate HF Group's innovation.
Universe of Coverage
Banks

Price as at 30/08/2019

Price as at 6/09/2019

w/w change

YTD Change

Target Price*

Dividend Yield

Upside/Downside**

P/TBv Multiple

Recommendation

CRDB

100.0

100.0

0.0%

(33.3%)

207.7

0.0%

88.8%

0.3x

Buy

UBA Bank

6.1

6.2

0.8%

(20.1%)

10.7

13.8%

86.4%

0.4x

Buy

Zenith Bank

16.6

17.4

4.5%

(24.7%)

33.3

15.6%

83.8%

0.8x

Buy

GCB Bank

4.9

4.9

(0.6%)

6.5%

7.7

7.8%

64.3%

1.2x

Buy

KCB Group***

40.2

38.2

(4.9%)

2.0%

56.3

9.2%

56.3%

1.0x

Buy

Diamond Trust Bank

116

113.5

(2.2%)

(27.5%)

180.8

2.3%

55.9%

0.6x

Buy

Access Bank

6.5

6.9

7.0%

1.5%

9.5

5.8%

52.0%

0.4x

Buy

CAL Bank

1.0

0.9

(9.1%)

(8.2%)

1.4

0.0%

40.0%

0.8x

Buy

Equity Group***

39.8

37.1

(6.9%)

6.3%

49.2

5.4%

31.8%

1.6x

Buy

Stanbic Bank Uganda

28.8

28.8

(0.2%)

(7.3%)

36.3

4.1%

29.1%

2.0x

Buy

Co-operative Bank***

11.4

11.3

(0.9%)

(21.0%)

14.1

8.8%

26.1%

0.9x

Buy

Barclays Bank***

11.0

11.0

(0.5%)

0.0%

12.0

10.0%

25.2%

1.3x

Buy

I&M Holdings

46.6

46.5

(0.1%)

9.4%

63.5

7.5%

22.9%

0.9x

Buy

SBM Holdings

5.7

5.7

1.4%

(3.7%)

6.6

5.2%

22.8%

0.8x

Buy

NIC Group

28.5

28.1

(1.4%)

0.9%

36.3

3.6%

22.3%

0.6x

Buy

Guaranty Trust Bank

26.0

26.5

1.9%

(23.1%)

37.1

9.1%

21.8%

1.7x

Buy

Ecobank

8.3

8.1

(2.4%)

8.5%

10.7

0.0%

19.2%

1.8x

Accumulate

Union Bank Plc

6.8

7.0

2.9%

25.0%

8.2

0.0%

16.4%

0.7x

Accumulate

Bank of Kigali

274.0

273.0

(0.4%)

(9.0%)

299.9

5.1%

8.5%

1.5x

Hold

FBN Holdings

4.5

4.4

(3.3%)

(45.3%)

6.6

5.7%

7.0%

0.2x

Hold

Bank of Baroda

128.0

130.0

1.6%

(7.1%)

130.6

1.9%

3.4%

1.1x

Lighten

Standard Chartered

18.0

18.0

0.0%

(14.2%)

19.5

0.0%

2.3%

2.3x

Lighten

Stanbic Holdings

97.5

96.0

(1.5%)

5.8%

94.9

6.1%

1.9%

1.1x

Lighten

Standard Chartered

195.0

195.5

0.3%

0.5%

183.5

6.4%

0.7%

1.4x

Lighten

Stanbic IBTC Holdings

35.0

37.0

5.7%

(22.8%)

37.0

1.6%

(6.5%)

1.9x

Sell

National Bank

3.8

4.1

9.9%

(22.6%)

3.5

0.0%

(15.4%)

0.2x

Sell

Ecobank Transnational

7.7

7.6

(1.3%)

(55.3%)

9.3

0.0%

(15.6%)

0.3x

Sell

HF Group

4.0

4.4

11.1%

(20.6%)

2.9

0.0%

(27.7%)

0.2x

Sell

*Target Price as per Cytonn Analyst estimates

**Upside / (Downside) is adjusted for Dividend Yield

***Banks in which Cytonn and/or its affiliates are invested in
Bank models are currently under review. We shall be releasing our H1'2019 Kenya Listed Banks Report on 29th September 2019.
We are "Positive" on equities for investors as the sustained price declines have seen the market P/E decline to below its historical average. We expect increased market activity, and possibly increased inflows from foreign investors, as they take advantage of the attractive valuations, to support the positive performance.
The Kenya Mortgage Refinance Company (KMRC), an initiative by the National Treasury and the World Bank whose aim is to provide secure long-term funding to mortgage lenders has raised Kshs 1.2 bn in equity capital from eight Kenyan commercial banks led by KCB Group, which has committed Kshs 600.0 mn in equity capital for a 25.3% stake. The other banks include Co-operative Bank who have committed Kshs 200.0 mn for an 8.4% stake, NIC Group, HF Group, Barclays Bank of Kenya and Diamond Trust Bank Kenya have each committed Kshs 50.0 mn of equity capital for a 2.1% stake. Stanbic Bank and Credit Bank have invested Kshs 20.0 mn and Kshs 10.0 mn in equity capital for a stake of 0.8% and 0.4%, respectively. Other investors in KMRC are the National Treasury who have committed Kshs 800.0 mn for an implied stake of 33.5%. IFC and Shelter Afrique have invested Kshs 200.0 mn each for an 8.4% stake each. Other shareholders of KMRC include Sacco's such as Kenya Police, Safaricom, and Mwalimu National Sacco. KMRC has so far raised Kshs 1.6 bn from its shareholders, with a total capital commitment of Kshs 2.4 bn as highlighted in the table below:
Kenya Mortgage Refinance Company Capital Commitments

#

Shareholder

Capital Committed (Kshs mns)

Capital Invested (Kshs mns)

Stake

1

National Treasury

800

325

33.5%

2

KCB Group

600

325

25.1%

3

Co-operative Bank

200

200

8.4%

4

IFC

200

200

8.4%

5

Shelter Afrique

200

200

8.4%

6

NIC Group

50

50

2.1%

7

HF Group

50

50

2.1%

8

Barclays Bank of Kenya

50

50

2.1%

9

Diamond Trust Bank Kenya

50

50

2.1%

10

Stanbic Bank

20

20

0.8%

11

Credit Bank

10

10

0.4%

12

Other*

157

120

6.6%

Total

2,387

1,600

100.0%

* Implied amounts, calculated based on stake
The World Bank in April 2019 approved a Kshs 26.0 bn (USD 250 mn) credit facility to support the initiative, while the African Development Bank (AfDB) approved a further Kshs 10.4 bn (USD 100 mn) credit facility to support the program. KMRC is also expected to issue bonds to expand the pool of funds available to lend out.
The Kenya Mortgage Refinance Company ("KMRC") was incorporated in April 2018 as a Limited liability company under the Companies Act 2015, with the sole purpose of providing secure long-term funding to primary mortgage lenders (Banks & Saccos) in order to increase availability and affordability of housing loans to Kenyans. We expect the KMRC to:
Increase the amounts of monies available for mortgage lending,
Lengthen typical mortgage tenures in Kenya from the current average of 12-years to 20-years, bringing down monthly payments by 14%, assuming current average interest rates of 13.6%,
Maintain the current market interest rates of 13.6% - 13.8%, (noting mortgages are fairly priced at just 100 bps above 15-year and 20-year government bonds at 12.5% and 12.8%, respectively. There has been talk of KMRC bringing down cost of mortgages to 10%, but not clear how that would be achieved as even the government has to pay 12.5%).
With the above impacts, we expect that the facility will help in addressing Kenya's housing deficit by extending the range of qualifying mortgage borrowers, resulting in the growth of homeownership rate and a vibrant mortgage market.
For more information, see our Kenya Mortgage Refinancing Company Update.
Private equity investments in Africa remain robust as evidenced by the increasing investor interest, which is attributed to; (i) rapid urbanization, a resilient and adapting middle class and increased consumerism, (ii) the attractive valuations in Sub Saharan Africa's private markets compared to its public markets, (iii) the attractive valuations in Sub Saharan Africa's markets compared to global markets, and (iv) better economic projections in Sub Sahara Africa compared to global markets. We remain bullish on PE as an asset class in Sub-Sahara Africa. Going forward, the increasing investor interest and stable macro-economic environment will continue to boost deal flow into African markets.
Industry Reports
During the week, Knight Frank released Kenya's H1'2019 Market Update, highlighting a slow-down in the real estate sector. The key take-outs were as follows:
In the office sector, prime rents remained unchanged in H1'2019 at Kshs 135 per SQFT per month, while uptake of Grade A and B office space declined by 8.0%, attributed to a continued oversupply of office space in some locations and the current economic slowdown. Serviced offices recorded increased demand from Small & Medium Enterprise's, maturing start-ups and multinational firms, attributed to their flexible lease agreements, lower operating costs and location in prime areas,
In the retail sector, rents came in at an average of Kshs 489 (US$ 4.8) per SQFT in H1'2019, 5.9% lower than Kshs 520 (US$ 5.1) per SQFT recorded in FY'2018, while the service charge ranged between Kshs 45 and Kshs 60 per SQFT per month. The decline in rental rates was attributed to the current economic credit crunch resulting in reduced consumer spending, in addition to the oversupply of retail space, which has pressured landlords to provide concessions to attract or retain tenants. Occupancy levels for established malls averaged at 90% while new retail spaces ranged between 45% and 55%, indicating a slow uptake of new retail space, and,
In the residential sector, prime residential prices decreased by 1.8% in H1'2019 compared to a 0.4% decline in H1'2018, while the rents declined by 1.7% in H1'2019 compared to a 0.3% decline within the same period in 2018. The decline in residential prices and rents was attributed to the current credit crunch and the oversupply of residential developments in high end segment of the market.
The above report is in line with Cytonn H1'2019 Markets Review, which highlighted that the real estate sector recorded subdued performance in H1'2019, with the office and retail sector recording a decline in average yields by 0.3% points and 0.8% points to 7.8% and 8.2% in H1'2019 from 8.1% and 9.0% in FY'2018, respectively. The residential sector recorded a marginal 0.2% points appreciation in average yields to 4.9% in H1'2019, from 4.7% in FY'2018. The overall performance of the sector was mainly constrained by (i) oversupply in selected sectors such as the commercial office and retail sectors, with a surplus of 5.2 mn SQFT and 2.0 mn SQFT, respectively, as at 2018, and (ii) inaccessibility of financing by both developers and off-takers.
However, the market still has pockets of value in differentiated concepts such as i) serviced offices, which have continued to record relatively high rental yields of 13.4% p.a, and ii) serviced apartments, with average rental yields of 7.4% and relatively high occupancy rates of above 80%. For the residential sector, the investment opportunity lies in the lower mid-end sectors which continue to exhibit fast growing demand from the majority of Kenyans seeking to buy affordable homes amidst a tough financial environment and continued government support through the affordable housing initiative.
Retail Sector
Quick Mart Limited and Tumaini Self Service Limited announced the commencement of a merger and business integration of the two companies. This follows the approval by industry regulator Competition Authority of Kenya (CAK), of a majority stake acquisition by Sokoni Retail Kenya, a special purpose vehicle controlled by private equity firm Adenia Partners, in local retailer Quick Mart. Sokoni Retail Kenya is also a majority shareholding in Tumaini Self Service Limited. The merger of Quick Mart and Tumaini Self Service operations into a single retail operation, under the brand name Quick Mart, is set to give the investor;
A stronger footing in Kenya's competitive formal retail space, ranking as the 3rd largest retailer by the number of branches. Currently, Quick Mart Supermarket and Tumaini have 11 and 13 branches, respectively,
Strengthen operational efficiencies in line with international retail standards, in order to gain a competitive edge among the incoming international retailers, and,
Expand their market share by tapping into the growing population and middle class.
We therefore are of the view that the retailers' merger is a good move that will enhance continued operation of the retailers. This would therefore be an option for struggling retailers to consider merging rather than closing down their branches.
Nevertheless, amid the growing retail sector in Kenya, marked by the expansion of both local and international retailers such as South African retailer, Game and French retailer, Carrefour supermarket, some retailers have been downsizing as a result of;
Financial constraints led by poor governance and oversight,
The growing competition in the sector from both international brands and the informal sector, and,
Market saturation making selection of catchment areas to launch new stores a challenge.
Owing to the above, during the week, South African retailer, Choppies Supermarkets, announced plans to exit the Kenyan market, where it currently has 12 stores. The retailer, which marked its debut in Kenya's market by acquiring Ukwala Stores for Kshs 1.0 bn in 2016, has been struggling to grow its market share mainly due to financial difficulties.
In terms of performance, Kenya's retail real estate sector has been on a decline with rental yields and average occupancy of 8.2% and 75.6%, respectively according to the Cytonn H1'2019 Report, in comparison to 9.7% and 82.7% in H1'2018, partly attributable to the growing supply of retail space.
Hospitality Sector
During the week, Eighteen Seventy Lower Kabete Limited, a real estate developer, announced plans to develop a 27-floor hotel and residence complex in Westlands, Nairobi. The development will be located at the junction between Peponi Road, Karuna Road and Lower Kabete Road. The development will comprise of 399 apartments: 46 studio apartments, 86 1-bedroom, 243 2-bedroom and 24 duplexes of 3-bedroom apartments. The amenities and facilities will include; a lounge, meeting rooms and a restaurant which will be situated on the top floors, in addition to a gym, sauna, a swimming pool and 251 parking bays. This is an indication of the continued increase in activities in the hospitality sector, with existing players looking to expand and refurbish their facilities to remain competitive in the market in the wake of continued entry of global brands, leverage from the growing demand of hospitality services due to the growing international arrivals and as well as land use maximization following the relaxation of zoning regulations.
In addition, serviced apartments have continued to gain popularity in the Kenyan hospitality market, as an alternative to hotel accommodation, especially for guests looking for an extended stay, as they provide a homely feeling especially for guests who travel as families. According to Cytonn Research, Westlands is one of the best performing areas with an average rental yield of 10.6%, compared to the market average at 7.4%, attributed to presence of recreational amenities such as high-end shopping facilities, good infrastructure, which enhances their accessibility and interconnectivity with other nodes such as Upperhill, Gigiri, and CBD, and the availability of high quality apartments. This has thus led to the continued focus by investors evidenced by entry of other developments such as CySuites by Cytonn Investments, a 40-unit project in Westlands, Movenpick Hotel and Residences opened in 2018, and the 38-unit Gem Suites development also situated in Westlands, off Riverside Lane.
Below is a summary of the performance per node;
All values in Kshs unless stated otherwise
Nairobi Metropolitan Area Serviced Apartments Performance 2018

Sizes (SQM)

Monthly Rates 2018 (Kshs)

Node

Studio

1 bed

2 bed

3 bed

Studio

1 Bed

2 Bed

3 Bed

Occupancy 2018

Monthly Charge per SM(Kshs)

Rental Yield

Kilimani

39

69

110

149

197,850

266,915

319,304

361,421

86%

3,567

10.9%

Westlands& Parklands

33

85

115

177

282,938

260,928

300,492

340,000

76%

4,044

10.6%

Limuru Road

51

137

107,438

193,621

84%

3,685

9.7%

Kileleshwa& Lavington

38

70

134

100,000

231,000

285,750

337,000

83%

2,686

7.8%

Nairobi CBD

51

90

115

137

120,000

199,500

294,917

320,000

74%

2,374

5.7%

Upperhill

75

110

156

274,680

300,492

310,000

60%

2,580

5.3%

Msa Road

34

90

107

151

114,912

120,000

201,096

258,552

85%

1,642

5.0%

Thika Road

70

100

144

100,646

128,375

90%

1,361

4.4%

Average

39

75

116

152

153,856

205,911

261,489

321,162

80%

2,742

7.4%

Serviced apartments recorded an 80.0% occupancy rate in 2018, compared to 72.0% recorded in 2017, attributed to the improved security and political stability,
Kilimani and Westlands were the best performing nodes recording high occupancy rates of 86.0% and 76.0%, and a rental yield of above 10.0%, attributed to the easy access from Jomo Kenyatta International Airport (JKIA), proximity to business nodes such as Upperhill, and the good transport network thus ease of accessibility
Source: Cytonn Research
We expect the serviced apartments concept to continue gaining popularity in Kenya, supported by (i) relatively high returns to investors, (ii) growing middle class creating demand for different luxury hospitality products, and (iii) increased number of long-stay international tourists and expatriates, and therefore, recording relatively good performance going forward. For investors seeking to venture into the theme, the investment opportunity lies in Kilimani, Westlands and Parklands, which are the best performing areas with average rental yields of above 10.0% and occupancy rates of above 75.0%.
Other highlights during the week:
Realtor Enkavilla Properties is set to put up a Kshs 1.7 billion gated estate in Isinya to host 290 households, on a 70- acre parcel of land. The develop-and-sell units will comprise of 30 4-bedroom units, 15 bungalows and 25 maisonettes with 3-bedrooms each, and a privately-owned luxury resort. According to online sources, the residential units are set for completion within the next 24 months. This is an indication of the developers continued focus on satellite towns such as Isinya, where land is available both in bulk and at relatively affordable prices.
We expect the real estate sector to continue recording increased activities, mainly in the differentiated concepts such as serviced apartments, serviced offices, and the restructuring by retailers with the aim of growing their market share.
Economic growth is largely influenced by factors such as capital, labour and technology. A well-functioning financial system permits an economy to fully exploit its growth potential, as it ensures that the best investment opportunities receive the necessary funding, while inferior opportunities are denied capital. We have previously covered this topic in our focus on The Role of Capital Markets in Economic Development, where we investigated the role capital markets play in economic and social development, and concluded on the need to develop our capital market so as to realize both economic and social-development goals. This week, we extend that Focus, as we investigate the current state and depth of the Kenyan Capital markets. In addition, we highlight some of the key challenges affecting the development of the capital markets, and the proposed solutions, as we continue to analyze how to leverage on capital markets to spur economic growth by addressing the topic as follows:
Introduction to Capital Markets,
Depth of Kenya's Capital Market,
The Role of Capital Markets in an Economy,
Successful Capital Market Reforms Case Study - South Africa,
How to Improve the Development of Local Capital Markets and Leverage on them for Economic Growth, and,
Conclusion.
Section I: Introduction to Capital Markets
Capital markets are a category of markets that facilitate the buying and selling of securities with medium-term and long-term maturity. Instruments traded in capital markets include equities, derivatives, treasury bills and bonds, corporate bonds, and commercial papers, among others.
Capital markets are generally categorized into the following depending on the type of issue (new or pre-issued);
Primary Markets - Primary markets are markets where equity (ordinary and preference), and debt securities are being issued to investors for the very first time. Primary markets enable institutions such as governments and companies raise funds for expansion or financing new projects. Through primary markets, funds can be raised using methods such as Public Issues, and Initial Public Offers, and,
Secondary Markets- In secondary markets, pre-existing securities that have already been issued in a primary market are traded. Here, investors buy and sell securities such as equity securities, treasury bonds, corporate bonds and derivatives.
Of course, these operations would not be possible without key players who play specific roles to ensure that capital markets are operational, efficient and effective. The main roles of key players are highlighted below;
Regulators - Are responsible for licensing market participants, enforcing regulations that are needed to develop capital markets and supervising the conduct of participants in order to uphold transparency, improve efficiency and protect investors,
Investors (Individuals and Institutions) - They provide their net savings to the financial markets for a return on the capital provided. Examples include retail investors and institutional investors such as fund managers and retirement benefits schemes,
Issuers of Securities - Domestic or foreign governments, corporations or other institutions mobilize funds from investors through the issuance of securities,
Financial Intermediaries - Financial intermediaries such as commercial banks, dealers and brokers act as a counterparty or link between buyers and sellers by moving funds to parties with a deficit in capital from parties with excess capital. Other roles financial intermediaries play include underwriting services and provision of liquidity, and,
Third Parties - These include authorized data vendor such as Bloomberg, Thomson Reuters, and Synergy, among others, who supply commercial information, and thus improve information asymmetry between the various players in capital markets.
Section II: Depth of Kenya's Capital Market
Kenya's official capital market began in 1997, with the first government security issuance, while the first company to be listed on a stock exchange was Kenya Commercial Bank in 1988. Since then, Kenya's capital market has experienced robust growth, currently at 65 companies listed on the Nairobi Securities Exchange. To ensure proper functioning of the markets, the Capital Markets Authority of Kenya was formed through an Act of Parliament (CAP 485A, Laws of Kenya) in December 1989, mandated to supervise, license and monitor the activities of financial market intermediaries and all other players licensed under the Capital Markets Act. The Authority performs the following regulatory functions as governed by the Capital Markets Act and the Central Depositories Act (2002):
Licensing and supervising all capital market intermediaries,
Ensuring proper conduct of all licensed persons and market institutions,
Regulating the issuance of capital market products,
Promoting market development through research and introduction of new products,
Promoting investor education and public awareness, and,
Protecting investor's interest.
We examine the depth of Kenya's capital market using the following metrics;
Pools of Capital - In order to achieve long-term impact, capital markets require long-term capital that is usually institution based driven, which includes capital from retirement benefits schemes, fund managers, and financial services companies. Compared to developed nations such as the United Kingdom with pension funds worth USD 15.6 tn, equivalent to 104.5% of GDP (OECD, 2018), Kenya's retirement benefits assets over the same period totals to USD 11.5 bn, equivalent to 12.9% of GDP, highlighting the low penetration rate of retirement benefits schemes in Kenya. The level of capital available for investment in our capital market is still low compared to advanced economies and so, much has to be done in terms of increasing the level of savings through the various institutions we have in the country and buoying those efforts with adequate regulatory support,
Corporate Activity - There has been increased corporate activity in Kenya in the recent past, with consolidation in Kenya's financial services industry mainly being witnessed in the banking sector over the past five years with large banks acquiring relatively smaller banks, which struggled to operate in the tough operating environment. Recent deals include those of KCB Group's acquisition of National Bank of Kenya (NBK) and Commercial Bank of Africa's (CBA) merger with NIC Group. In the non-financial sector, Rubis Plc concluded the acquisition of Kenol Kobil in April 2019, with the merger of Telkom and Airtel currently in the pipeline. Corporate activity in terms of private equity and venture capital saw Kenya record the highest number of deals and volumes totaling to 61 between 2017 and 2018 compared to the East African countries as illustrated in the chart below;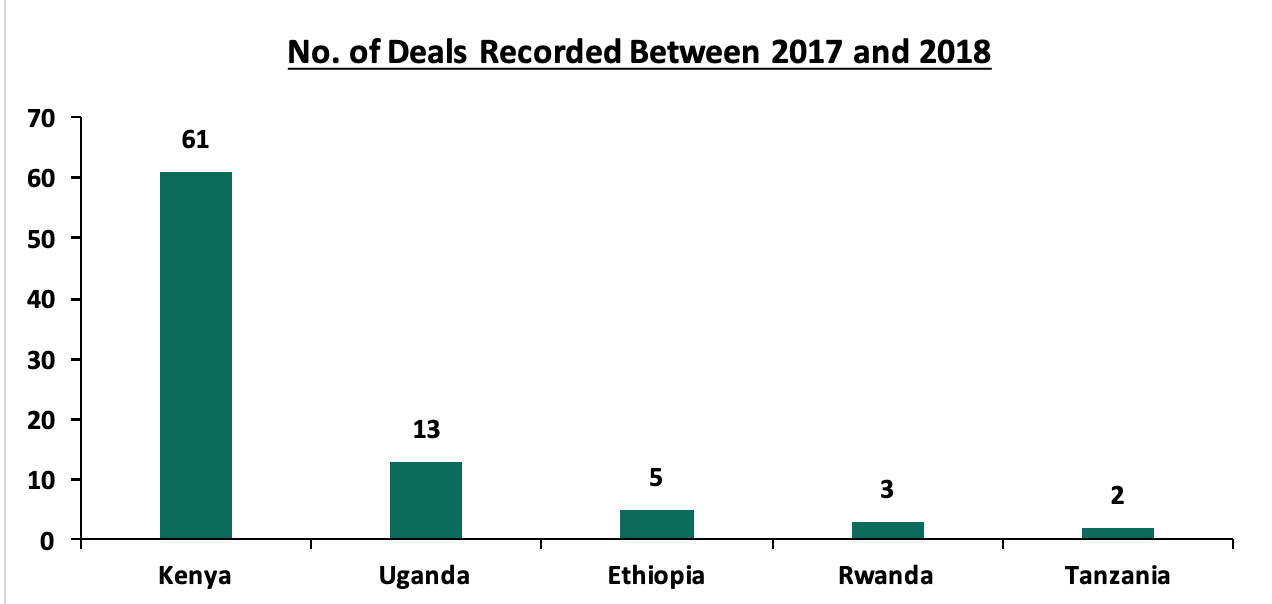 Source: AVCA
However, despite it being the highest, Kenya has not fully optimized the potential of its financial markets to boost the growth it envisions. For instance, while the maximum allocation of total Retirement Benefits assets in Kenya as per the RBA Investment Guidelines (Table G) to private equity is 10.0%, assets allocated to private equity stood at 0.04% of managed assets in 2018.
New Debt Issuance- In terms of debt issuance, the Kenya's capital market is dominated by government bonds, where during the financial year FY2018/2019, the Government of Kenya issued 23 treasury bonds, including 2 infrastructure bond issuance and 2 tap sales, raising Kshs 444.2 bn. However, the capital markets have not witnessed any corporate bond issuances since 2015 from local companies, although 4 medium term notes issued by KenGen, HF Group, NIC Group and CIC Insurance Group are expected to mature before the year ends, with the companies opting to redeem the debt holders and not issue any additional debt. The drought in issuances is attributable to defaults witnessed over the past five-years by issuers such as ARM Cement, Nakumatt, Chase Bank and Imperial Bank that caused losses to holders of the bonds, and notes. In a bid to spur activity, the CMA approved the first green bond issuance by Acorn, a property developer, to finance sustainable and climate-resilient student accommodation in Kenya. Green bonds are bonds essentially reserved for projects with environmental benefits and help align the investor's interest with climate policies according to the Paris Agreement and at the same time, support the transition to a sustainable economy. Although the first issuance will be restricted to target investors, we laud the Authority and the NSE for the launch of the Green bond project plan which is a step towards the development of other green investment products such as green Islamic finance which will boost inclusivity, and,
New Primary Equity Issuances i.e. Initial Public Offers (IPOs) and Rights Issues – The Nairobi Stock Exchange currently has 65 listed companies with a market capitalization of USD 22.3 bn as at June 2019. Since 2014 to date, Kenya has only recorded 2 IPOs, namely the Nairobi Stock Exchange (NSE) and Stanlib Fahari REIT valued at USD 42.0 mn, and 6 Further Offers (FO) by Diamond Trust Bank, NIC Bank, Uchumi, HF Group, Longhorn, and KenGen raising USD 0.4 bn in capital. Contrary to the Capital Markets Master Plan which had a target of at least four listings per year on the Nairobi Stock Exchange, Kenya has failed to attract any IPOs since 2016. South Africa, on the other hand, raised capital worth USD 5.8 bn through 33 IPOs between 2014 and 2018, while Nigeria raised USD 0.6 bn through 3 IPOs. To remedy this, the Nairobi Stock Exchange launched the NSE Ibuka Platform early this year to help Small, Medium and Large Enterprises who wish to list or raise funds on the bourse, build strong structures before listing or access various financing options available in capital markets. According to the program's weekly report as at 2nd August 2019, 16 companies were under the Ibuka program, at different stages of the induction, acceleration and incubation processes. During the week, NSE announced that it plans to list at least one firm from the program on the Main Investment Market segment by the end of the first quarter of 2020, which in our view will be an optimistic step towards increasing market activity.
Product Diversity - In terms of product diversity, Kenya's capital market has increasingly developed new products for investors and issuers over the years as the market grows. Kenya has well-developed equity and debt market, and early this year NSE launched the Derivatives market that facilitates the trading of Equity Indices and Single Stock futures contracts and is set to launch Intraday Trading within the year, which we expect will further deepen Kenya's financial markets. Other products such as Real Estate Investment Trusts (REITs) are gaining traction, as the past year has witnessed potential issuers engaging with the CMA. The REIT Market Cap to GDP for Kenya compared to other countries shows significant opportunity or REITs, which is currently 0.06% of GDP in Kenya compared to 6.9% in South Africa, indicating room for growth for Real Estate listings in the capital market hence making real estate an investible security.

Section III: The Role of Capital Markets in an Economy
Capital markets bring together suppliers and users of medium to long-term capital, through connecting the monetary sector with the real sector, which is the sector of the economy concerned with the production of goods and services. The capital markets thus play an important role in economic development as they facilitate growth in the real sector by enabling access to long-term financing for producers of goods and services, and entities tasked with infrastructure development.
The fundamental channels through which capital markets are connected to the economy, economic growth and development can be outlined as follows:
Creating a Bridge Between Suppliers and Users of Capital: The contact between agents with a monetary deficit and the ones with monetary surplus can take place directly through direct financing, but also through a financial intermediary in form of indirect financing, which is a situation whereby specific operators facilitate the connection between the real economy and the financial market. In this case, the financial intermediaries could be banks, investment funds, pension funds, insurance companies, or other non-bank financial institutions.
Promoting a Saving and Investments Culture: The capital markets increase the proportion of long-term savings (pensions, life covers, etc.) that is channeled to long-term investment. Capital markets enable the contractual savings industry (pension and provident funds, insurance companies, medical aid schemes, collective investment schemes, etc.) to mobilize long-term savings from individual households and retail clients, and channel them into long-term investments. It fulfills the transfer function of current purchasing power, in monetary form, from surplus sectors to deficit sectors, in exchange for reimbursing a greater purchasing power in the future. In this way, the capital markets enable corporations to raise funds to finance their investment in real assets. The implication will be an increase in productivity within the economy leading to more employment, increase in aggregate consumption and hence growth and development. It also helps in diffusing stress on the banking system by matching long-term investments with long-term capital. It encourages broader ownership of productive assets by small savers. It enables them to benefit from economic growth and wealth distribution and provides avenues for investment opportunities that encourage a thrift culture critical in increasing domestic savings and investments that translate to economic growth.
Supporting Efficient Allocation of Resources: The capital markets facilitate the efficient allocation of scarce financial resources by offering a large variety of financial instruments with different risk and return characteristics. This competitive pricing of securities and large range of financial instruments allows investors to better allocate their funds according to their respective risk and return appetites, thereby supporting economic growth.
Financing Utility and Infrastructure Development: The capital markets also provide equity capital, debt capital and infrastructure development capital that have strong socio-economic benefits through the development of essential utilities such as roads, water, and sewer systems, housing, energy, telecommunications, public transport, etc. These projects are ideal for financing through the capital markets via long-dated bonds and asset-backed securities. Infrastructure development is a necessary condition for long-term sustainable growth and development. In addition, capital markets increase the efficiency of capital allocation by ensuring that only projects that are deemed profitable can successfully attract funds. This will, in turn, improve the competitiveness of domestic industries and enhance the ability of domestic industries to compete globally, given the current momentum towards global integration. The result will be an increase in domestic productivity which may spill over into an increase in exports and, therefore, economic growth and development.
Financing Private-Public Partnerships, "PPPs": Capital markets promote PPPs, thereby encouraging the participation of private sector in productive investments. The need to shift economic development from the public to the private sector to enhance economic productivity has become inevitable as resources continue to diminish. It assists the public sector to close the resource gap and complement its effort in financing essential socio-economic development, through raising long-term project-based capital. It also attracts foreign portfolio investors who are critical in supplementing the domestic savings levels and who facilitate inflows of foreign financial resources into the domestic economy, thereby supporting economic growth.
Section IV: Successful Capital Market Reforms Case Study - South Africa
According to the Africa Financial Markets Index 2018, by Absa Group, while most capital markets in African countries are relatively underdeveloped, those countries which introduced reforms that are geared towards the development of capital markets have been able to grow at relatively higher and sustainable rates. The Africa Financial Markets Index tracks progress on financial market developments of selected African countries annually across a range of indicators. These indicators are:
Market depth,
Access to foreign exchange,
Tax and regulatory environment,
Market transparency,
The capacity of local investors,
Macroeconomic opportunity, and,
Legality and enforceability of standard financial markets master agreements.
According to the first report published in 2017 and the subsequent report in 2018, South Africa ranked first in both occasions as the most developed financial market in Africa, hence the reason we have picked it as a case study. A summary of rankings from the ABSA report is highlighted in the table below, where the higher the score, the more developed the capital markets are based on the indicators above:
ABSA Africa Financial Markets index

2017

2018

Country

Aggregate Score

Country

Aggregate Score

South Africa

92

South Africa

93

Mauritius

66

Mauritius

65

Botswana

65

Botswana

65

Namibia

62

Namibia

62

Kenya

59

Kenya

61
The South African capital markets consist of:
Equities: The Johannesburg Stock Exchange (JSE) is the largest exchange in Africa with over 400 listed firms and a market capitalization of USD 13.7 tn, which is 236.2% of GDP,
Bonds: The South African-listed bond market is estimated to be ZAR 2.7 tn (USD 186.4 bn). It is largely dominated by bonds issued by the National Treasury, which account for 68.4% of the outstanding debt, followed by bonds issued by the financial sector (16.0%) and state-owned entities [parastatals] (11.2%). In terms of turnover, the monthly average amount traded on the JSE is ZAR 2.3 tn (USD 158.8 bn),
Derivatives: Derivatives are traded in exchanges under the umbrella of the JSE, and over-the-counter (OTC). Exchange-traded products are standardized and free of counterparty risk. The JSE permits trading in equity, commodity (mainly agricultural), currency, and interest rate derivatives, and,
Real Estate: South Africa has the largest and most established REITs market in Africa. The South African listed property sector has a market capitalization of approximately ZAR 380.0 bn (USD 26.2 bn) at the end of 2016, which is 6.4% of GDP.
To get here, South Africa made regulatory reforms, as well as the restructuring of the financial system, as outlined below:
First, major changes were introduced in the operations of the financial markets where Johannesburg Stock Exchange (JSE) restructured its systems to provide for electronic screen trading, corporate and non-resident participation, and provision for negotiated commissions and principal, versus broking trade by members of the Exchange,
Further, South Africa removed exchange controls, leading its foreign exchange market to become more competitive and active. The JSE in 1996 introduced the Johannesburg Electronic Trading (JET) system, which greatly improved the efficiency of the trading platform, which in turn improved market activity and liquidity,
To improve transparency and investor confidence, the JSE introduced the real-time Stock Exchange News Service (SENS) in 1997, which required listed companies to disclose any corporate news and price-sensitive information through the service before releasing the information to the media,
In terms of regulation, the most recent reform was the replacement of the Securities Services Act with the Financial Markets Act in 2012, designed to modernize the sector and have supervision up to date with international standards. As a member of the G20, South Africa continually reforms its offerings, such as the Over-the-Counter Derivatives market to be in line with G20 proposals and recommendations from IMF and World Bank, and,
South Africa has been able to successfully raise a high level of their institutional funds as compared to their economic output, with some of these funds being directed into their capital markets as highlighted in the table below:
| | | | |
| --- | --- | --- | --- |
| Country | South Africa | Kenya | Nigeria |
| Total Funds Managed (USD bn) | 333.0 | 12.1 | 24.5 |
| GDP (USD bn) | 349.4 | 88.1 | 376.4 |
| Funds Managed as a % of GDP | 95.3% | 13.7% | 6.5% |
South Africa continues to emerge top in Africa in terms of capital markets activity on the back of better supervision and strengthened regulatory frameworks. The Johannesburg Stock Exchange continues to lead in equity and debt market capital activity, over the years recording the highest number in Africa, in terms value. Despite the slowing economic growth, South Africa continues to instil investor confidence as one of the most popular investment destinations, with the most developed derivatives and bond markets in the region. A lot can be borrowed from South Africa in terms of regulation and supervision in order to make our capital markets accessible to international investors, local institutional investors as well as issuers of equity and debt instruments. Thus, in the next section, we recommend feasible solutions that will help elevate our capital market to the next level towards being one that is more developed.
Section V: How to Improve the Development of Local Capital Markets and Leverage on them for Economic Growth
In order to map a way out to improve our capital markets, we examine the challenges that these markets face then look at various ways we can improve them.
Challenges Local Capital Markets Face
Economic growth in a modern economy hinges on an efficient and effective financial sector that pools domestic savings and mobilizes capital for productive projects. The absence of effective capital markets could leave most productive projects that carry developmental agendas unexploited. However, there are challenges in developing capital markets as they are to a large extent dependent on the level of economic and structural development of a country. Factors affecting the development of capital markets include:
Country Fundamentals: The size of the economy in terms of aggregate gross domestic product and per capita income affects the development of capital markets. This explains in large part why, in general, capital markets are at an embryonic stage in smaller and low-income countries, while more developed countries have more robust capital markets. This can be explained as more developed economies have greater institutional development, a larger institutional investor base, and higher levels of contractual savings such as pension funds, political stability, and macroeconomic stability,
Macroeconomic Policies Framework: An essential condition for well-functioning capital markets is the existence of sound macroeconomic policy frameworks. Capital markets depend on investor confidence. Strong institutions thrive in stable macroeconomic conditions and investors can also be confident that their capital will not be eroded by factors such as hyperinflation and exchange rate risks when there is a strong macroeconomic framework in place,
Access to Information: Access to information is a major factor that affects the development of capital markets. Access to information gives investors' confidence in the functioning of the capital markets. Access to information and transparency allows for the monitoring of users of funds, which increases investor confidence,
Regulatory Framework: To reliably extract the benefits of well-functioning markets, adequate regulation of users of funds, investors, and intermediaries in addition to robust supervisory arrangements to protect investors, promote deep and liquid markets, and manage systemic risk are critical,
Efficient Market Infrastructure: Lack of adequate and efficient market infrastructure for issuing, trading, clearing and settlement is a major issue for capital market development as it pushes away potential investors from an economy, and,
Knowledge of Retail Investors: The lack of investor education for retail investors is another factor affecting the development of capital markets. It is important to educate retail investors on investment products and the benefits of saving, in order to channel savings to the capital markets.
Ways to Improve the Local Capital Markets
The following recommendations provide feasible solutions to challenges facing the development of capital markets:
Innovative Financial Products and Services - In order to drive investor participation in the capital markets, it is imperative that more sophisticated products and value adding services are created such as Shariah compliant products. Capital markets development should also be driven by advancements in technology, accompanied by the necessary regulatory policies and structures to support their growth.
The Development of Structured Products in The Kenyan Market - These products have been a welcome alternative to banks for businesses seeking capital for growth. In developing markets such as Kenya, capital markets remain under developed, hence businesses are forced to source up to 95% of funding from banks, while only 5% from capital markets, compared to developed markets where banks provide on 40.0% of credit in the economy. As such, real estate development and investment is not being provided with adequate access to this source of capital, which if provided at competitive rates can increase the development of affordable housing,
Improve Market Access and Efficiency - In order to achieve efficiency, there is need for high quality and timely information, which is derived from better disclosures by listed companies. Borrowing from South Africa, we recommend that the NSE develop policies which will require listed firms to disclose corporate news and price sensitive information to the bourse before going to the media,
Tax Amendments to Level the Playing Field – Structured Products and non-bank funding need to be given favorable tax treatment as other funding methods, which will provide an incentive to capital providers to invest in capital markets. This is expected to spur development of alternative sources of funding at competitive rates available for business development,
Investors and Issuers Education- In order to transform the culture of saving and investment, and build trust, it is important that capital markets regulators invest in investor education. The lack of investor education for retail investors is another factor affecting the development of capital markets. It is important to educate retail investors on investment products and the benefits of saving, in order to channel savings to the capital markets,
Shifting Reliance Away from Bank Loans towards Capital Market Instruments - Banks are the primary source of business funding in the country, providing 95.0% of funding, with other alternative sources such as the capital markets providing a combined 5.0%, compared to developed markets where banks provide only 40.0% of the credit in the economy. Several SMEs have a poor understanding of the capital markets and are unaware of ways in which they can use them to raise funds. The first step towards achieving this would be investor education/ awareness campaigns in order to educate SMEs on how they can use the stock exchange better and build their confidence in the financial system of the capital markets,
Reduce Minimum Amount Investable in all Real Estate Investment Trusts (REIT) - In order to attract capital into capital market vehicles such as Real Estate Investment Trusts (REIT's) for real estate development, the minimum investment amount needs to be amended. The current regulations, which define the minimum subscription amount per investor at Kshs 5.0 mn for a Development REIT (D-REIT) is too high to attract significant interest from investors. An amount of Kshs 1.0 mn ensures the investor is sophisticated while also allowing a larger pool of investors to participate,
Expand Tax Relief for Regular Savings Towards Home Purchase- Savings into Collective Investment Schemes regulated by the Capital Markets Authority (CMA) should qualify as HOSP (Home Ownership Savings Plan). Savings in CMA approved products, such as Money Market Funds currently don't qualify as HOSP. Therefore, savers only have the option of banks, which pay low interest. There is need to expand the meaning of "approved institution" that hold deposits intended for the Home Ownership Savings Plan (HOSP) to include Fund Managers, thus enabling the potential homeowners making savings through the CIS to enjoy the tax relief provided under HOSP, and,
HOSP Guidelines should include Capital Markets Authority (CMA) Investment Guidelines in Addition to Central Bank of Kenya (CBK) - HOSP guidelines only recognize investment guidelines per CBK. If Fund Managers are included, the guidelines would be as per CMA, so that an investor has a choice whether to save through a bank or an investment savings product. To include investment guidelines provided by the CMA regulations, in addition to the prudential guidelines issued by CBK to regulate investment of deposits under a registered HOSP.
Section VI: Conclusion
In conclusion, a well-developed capital market creates a sustainable, low-cost distribution mechanism for multiple financial products and services across the country. This, in turn, helps the business community to raise long-term funds that are used to purchase capital goods, thereby propelling their growth and supporting the country's economic growth. In addition, capital markets improve financial inclusion by introducing new products and services tailored to suit investors' preferences for risk and return, as well as borrowers' project needs and risk appetite. To tap into this, there is a need to align regulatory frameworks for capital markets with economic policies in order to enhance efficient financial intermediation. A well-developed capital market will encourage the flow of long-term equity capital investment into infrastructure development that will go a long way to help achieve socio-economic development goals.
Disclaimer: The views expressed in this publication are those of the writers where particulars are not warranted. This publication, which is in compliance with Section 2 of the Capital Markets Authority Act Cap 485A, is meant for general information only and is not a warranty, representation, advice or solicitation of any nature. Readers are advised in all circumstances to seek the advice of a registered investment advisor.